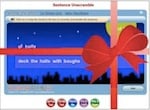 Several months back, a VocabularySpellingCity member shared a great idea with us. She had created a word list, customized the sentences and e-mailed her dad a personalized crossword puzzle on Father's Day. She even customized the clues and words so it was very meaningful. Why not have your students create unique, personalized holiday gifts using VocabularySpellingCity? Here are some ideas:
Family Trivia – Create a word list for individual family members and customize the sentences to personalize them. For instance, "Mom's nickname for her youngest son" or "The street that we used to live on." Load MatchIt Sentences or WhichWord? Sentences with your custom word list and print it on nice paper for a gift.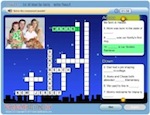 Holiday Traditions – How about putting together a customized word list based on holiday traditions that your family holds dear? Then play a game or two using that list when the family gets together to celebrate!
Holiday Phrases – Try making a word list based on popular holiday phrases or songs. Customize the sentences to reflect these phrases or lyrics. Have your children play Sentence Unscramble to try and figure out the holiday phrase or song.
Premium Members can create their own personalized Crossword Puzzles or a holiday-themed Word-O-Rama word game show. Anyone can use our Christmas or Hanukkah word lists from the Teacher Resources section to play any of our 25 learning games and activities!
Wishing you a wonderful holiday season!